Product Description
Testing the mass fraction of C,S of steel,iron,alloy,mold and cores,nonferrous metal,cement,ore,coke,catalyst,magnetic materials,ceramic,inorganic,substance,black lead,refractory matter,battery matter,plant and other material.

Main Features
(1).Adopting the double CPU up and down modual design, elestronic circuit integration degree is highly, steady and reliable, which can settle the high-frequency interference thoroughly.
(2).The special new platinum infrared light source,Gold plated carbon sulfur analysis pool and high precision pyroelectric infrared detector to make the apparatus' measurement more accurate.
(3).Adopting the high power and quick frequency circuit design, which using 6KVA high frequency power tube(actual use of power is about 2.5KVA, it can turn on to work itself), to reduce the high frequency combustion system load and to increase the using time.
(4).Furnace head automatic cleaning device, patent technology supply system and -0.4mm amd hole metal filter to make the dust and gas seperated, reducing the dust on the result of analysis.
(5.)Specialized analysis software of many different language owns following functions:curve/data storage, blank deduction, parameter determination, channel choosing, data statistics, results correction, breakpoint correction, curve comparison, system diagnosis, automatic/manual printing analysis results etc.
Main technical parameter
Measuring range

C: 0.0001%-10.0000% ( can extend to 99.9999%)

S: 0.0001%-3.5000% (can extend to 99.9999%)

Analysis of error

With GB / T20123-2006/ ISO15350: 2000 standard

Analysis time

25-60 seconds can be set ( usually 35 seconds)

High frequency furnace

power ≥2.7KVA Oscillation frequency:20MHz

Electronic balance

weight the sample in variable amount Accuracy of reading:0.0001g

Working environment

indoor temperature:10-30ºC,relative humidity:<90%

Power supply

voltage:AC220V±5%,frequency:50Hz±2%

Oxygen

Purity: ≥99.5%, input pressure : 0.18MPa + 5%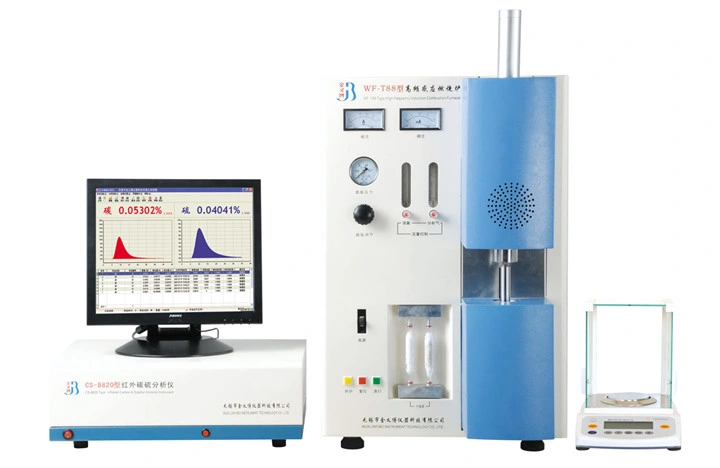 Packing & Shipping