Specificatiton
Model

BCM-810

Illumination/Observation System

d/8 (diffused illumination, 8-degree viewing angle) Conforms to CIE No.15, GB/T 3978.

Integrating Sphere Size

Φ58mm

Light

Combined LED sources

Senso

Silicon photodiode array

Wavelength Range

400~700nm

Wavelength Pitch

10nm

Reflectance Range

0~200%

Measuring Aperture

Φ8mm

Color Space

CIE LAB, XYZ, Yxy, LCh, CIE LUV,LAB&WI&YI

Color Difference

Formula

ΔE*ab,ΔE*uv,ΔE*94,ΔE*cmc(2:1),ΔE*cmc(1:1),ΔE*cm c(l:c),CIE2000ΔE*00,ΔE(h)

Other Chromaticity

Data

WI(ASTM E313,CIE/ISO,AATCC, Hunter),

YI(ASTM D1925,ASTM 313),

Metamerism index (Mt), Color strength color stain, Color fastness

Observer

2°/10°

Illuminant

D65,D50,A,C,D55,D75,F1,F2,F3,F4,F5,F6,F7,F8,F9,F10

Display Data

Spectral value/Graph, Colorimetric value, Color difference value/Graph, Pass/Fail result, Color offset, Color simulation, Color index setting(ΔE*94, ΔE*cmc, ΔE2000), Tolerance prompt, Reverse prompt, Time setting, Language seting, Restore factory setting

Measurement Time

1.5s

Repeatability

Spectral reflectance: Standard deviation within 0.1%(400~700nm: within 0.2%)

Colorimetric value: Standard deviation within ΔE*ab

0.04 (Measurement conditions: White calibration plate measured 30 times at 5 seconds intervals after white calibration was performed.)

Inter Instrument

Agreemen

Within ΔE*ab 0.2 (Average for 12 BCRA Series II color tiles)

Battery

Li-ion battery. 2800 times within 8 hours.

Lamp Life

5 years, more than 1.6 million measurements

Display

3.5 inch TFT LCD, Capacitive touch screen

Interface

USB/RS-232

Data Memory

1000 Standards, 15000 Samples

Ambient Temp.

0~40ºC(32~104°F)

Storage Temp.

-20~50ºC(-4~122°F)

Standard Accessory

Power adapter, Li-ion battery, Operating instruction, CD-ROM (Containing management software), Data line, White and black calibration cavity, Protective cover and wrist strap

Optional Accessory

Universal test components, Micro printer, Powder test box

External Size(W*D*H)

90*77*230mm

Package Size(W*D*H)

460*250*380mm

Net Weight

600g

Gross Weight

9.5kg

Notes

The specifications are subject to change without notice.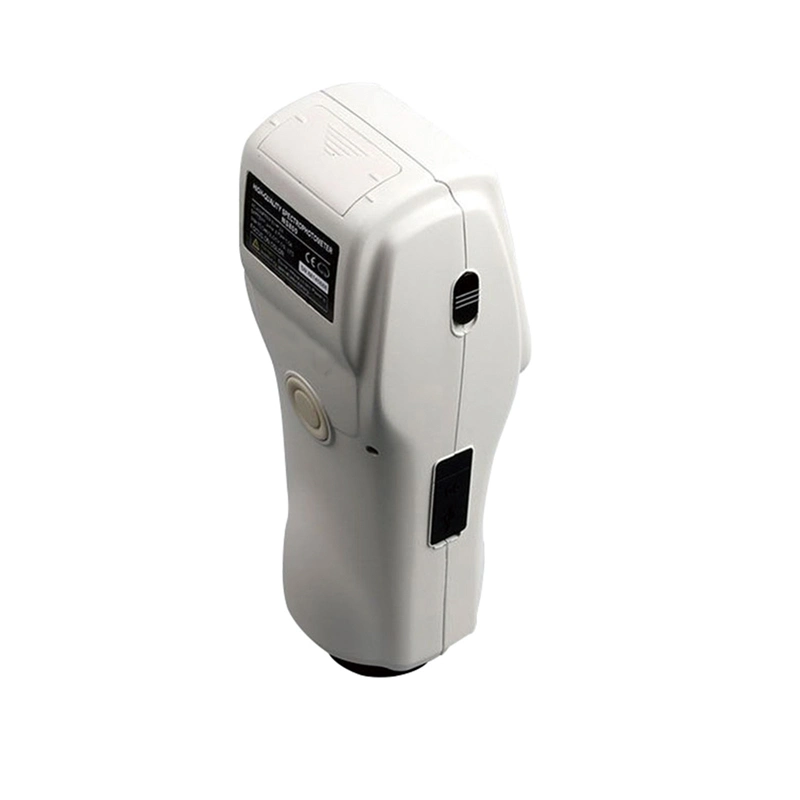 Company Profie
BIOSTELLAR is specialized in products of 8 areas including diagnosis, disinfection and sterilization, water purification
system, , cold chain products, lab instruments project.
BIOSTELLAR laboratory technology offers a wide range of innovative equipment for numerous applications in research and
development. Market leaders trust in our proven technology for their mixing, heating, distilling and crushing applications.
BIOSTELLAR has gained a leading position in the world market with its innovative magnetic stirrers, mixers, overhead stirrers,
shakers, homogenizers, mills, rotary evaporators, calorimeters, laboratory reactors and specially developed software for
laboratory and analysis applications, as well as temperature control products such as circulators, baths and chillers.