25D 4025 NLS
Together with improvement of "METATRON" hardware, the software is being improved also. "Metapathia GR 25D" is a new, revolutionary step in software creation. Hundreds of virtual models, starting with chromosomes, DNA and cells and up to models of organs and joints, were added to "Metapathia GR 25D".
Also the algorithm of the software was renewed, thus the effectiveness and reliability of researches was increased.
The most significant addition to "Metapathia GR 25D"- is a module called 25D, which allows revealing of oncological on early stages. New user interface of the software is intuitively obvious; all symbols are visual and easy to remember.
"Metapathia GR 25D" together with new models of "METATRON" are considered to be a leader in non-linear diagnostics sphere, and medical certificate allows using of the system everywhere.
Main feature for Metatron 4025 25D:
The main feature of Metapathia GR 25D software is function called "Three-dimensional Scanning" which allows to localize automatically a nidus where tumor appeared,heritable diseases, etc. and to find the reason of appearance at genome level, passing one after another histological cuts, cytological cuts, chromosome sets, separate chromosomes, and go deeper to fragments of DNA helix.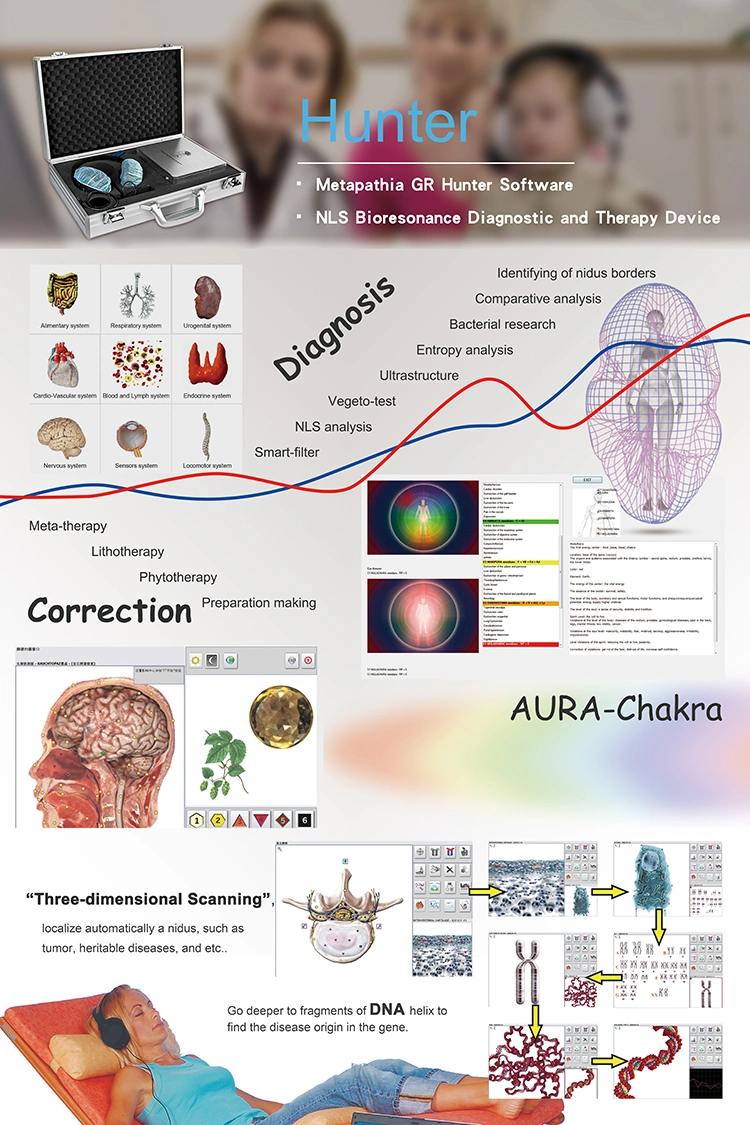 Specification:
| | |
| --- | --- |
| Products Names | 4025 NLS Metatron Hunter |
| Main Peculiarity | Multidimensional Virtual scanning |
| Software | Metapathia GR Hunter |
| Main Function | Bacterial research, NLS analyzer,Entropy analyzer, Comparative analyzer, Ultrastructure, Smart-filter |
| Correcting actions | Meta Therapy,Stone Therapy(lithotherapy), Phytotherapy and preparation making |
| Accuracy | Above 90% |
| Number of computer graphic models of organs and tissues | 1432 |
| Number of digitized spectral etalons of preparations and processes | 4025 |
| Testing time | About 5min |
| Languages | English,Spanish,French,German, multi-language |
| Operation system | XP,win7,win8,win10 |
| Frequency of internal generator | Max 4.9 GHz |
| Current consumption | Up to 300 MA |
| Voltage | 5V |
| Power supply | USB port on your computer |





Competitive Advantage:
We are manufacturer metatron 4025 nls
2016 latest products
Accuracy rate of up to 95%
2-year warranty (one year based on the increase in the original)
Pregnant women, children and senior citizens can use without any side effects
Rugged aluminum packaging with high temperature shock.
The minimum requirements a compatible computer must have are:
Operating system: Windows 2000/XP/Vista/Win7/Win8.1
Processor: at least 1 GHz Pentium III
Random access memory: 512 Mb;
Video card: SVGA High Color 1024x768 at least 8 Mb;
Printer (color);
At least 1 GB of free space on the hard drive;
Two USB ports;
CD - ROM;
Uninterruptible power supply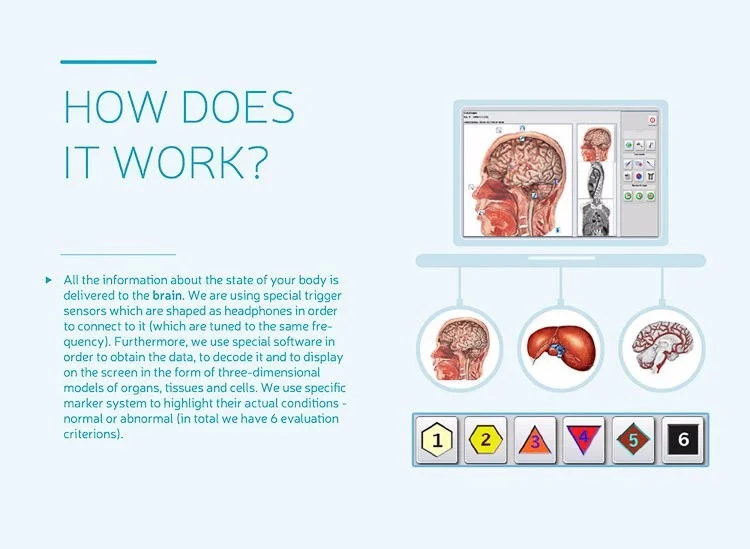 Operating principle and operational procedures:
The system operates according to the principle of the amplification of the initiating signal of disintegrating meta-stable structures. Affected by the external electromagnetic field, magnetic moments of molecular currents in the admixture centers of the cortex nerve cells, causes them to loose their original orientation. This result in misalignment of the spin structures of these delocalized electrons gives rise to unstable or meta-stable states within them. These disintegrating conditions then act as the initiating signal.
In terms of physics the apparatus is a system of electronic oscillations, which resonate at the wavelengths of electromagnetic radiation. With their energy being equal to the energy required to break down the dominant bands that maintain the structural organization of the biological object. The system enables the production of a preset bioelectrical activity of the brain neurons, and with this background activity, it becomes possible to selectively amplify signals, which before were
hardly detectable against the static fluctuations. The information about the specific temporary conditions of organs and tissues are then gathered on a non-contact basis by means of
a "trigger-sensor", developed with the aid of modern information technology and microcircuitry. The sensor detects faint signal fluctuations and selects them from the average statistical noise characteristics of the field and converts them to a digital sequence that is processed by a microprocessor,which is then transmitted to the computer through the interface cable.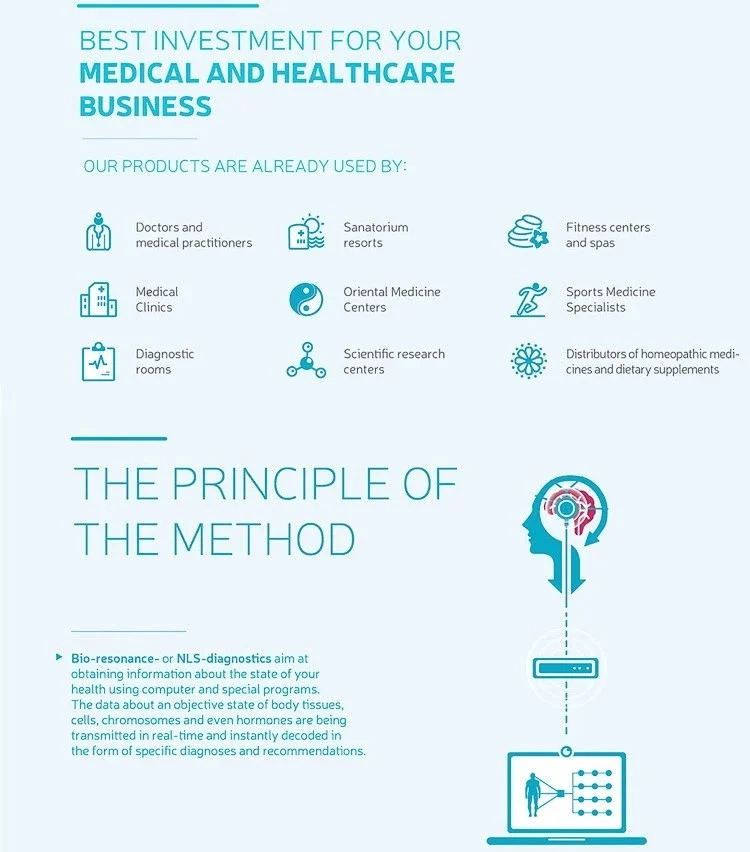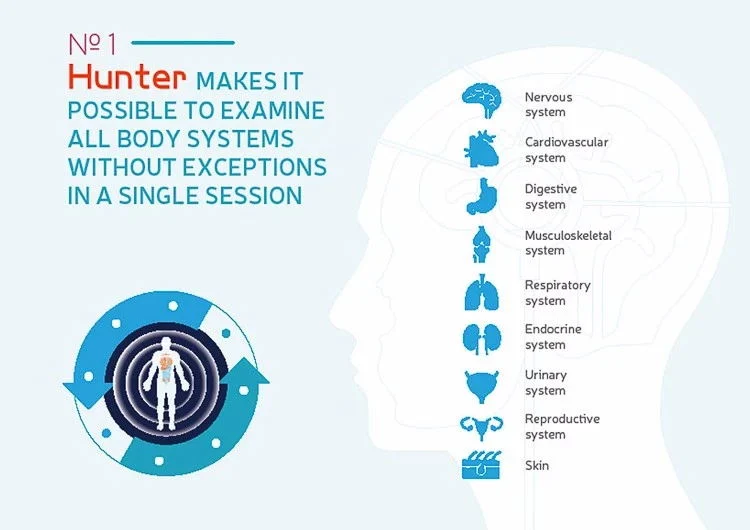 The system is designed to diagnose one patient at a time. The operating cycle takes from 3 minutes to 1 hour.The system can run non-stop for 24 hours.The computer,according to the established program operates automatically in adjusting and controlling all information. The results of the patient's diagnosis are displayed on the monitor screen and kept on a separate file on the hard disk. The information can then be transferred to an individual diskette for future use. The current information is displayed on the screen as required.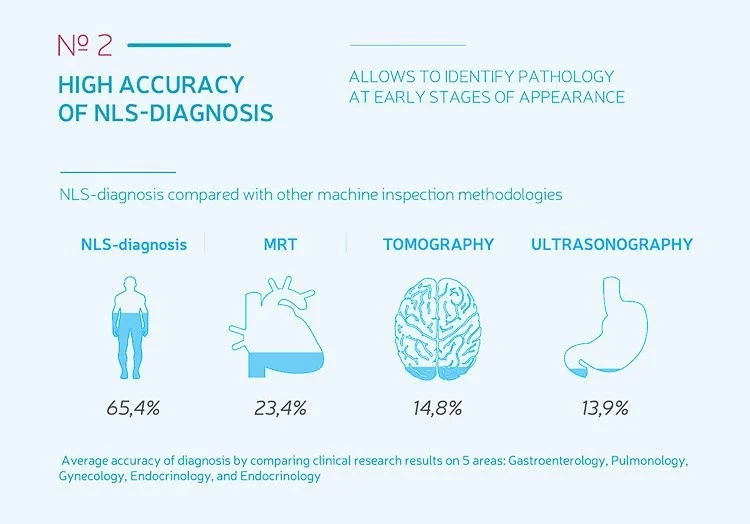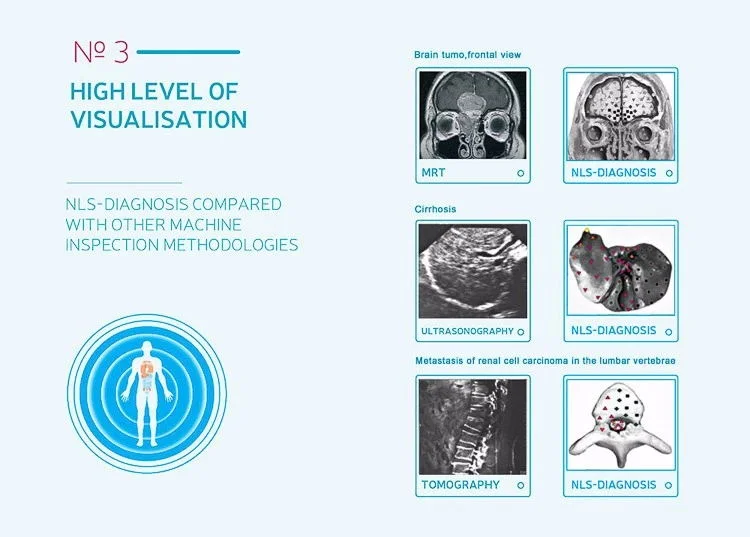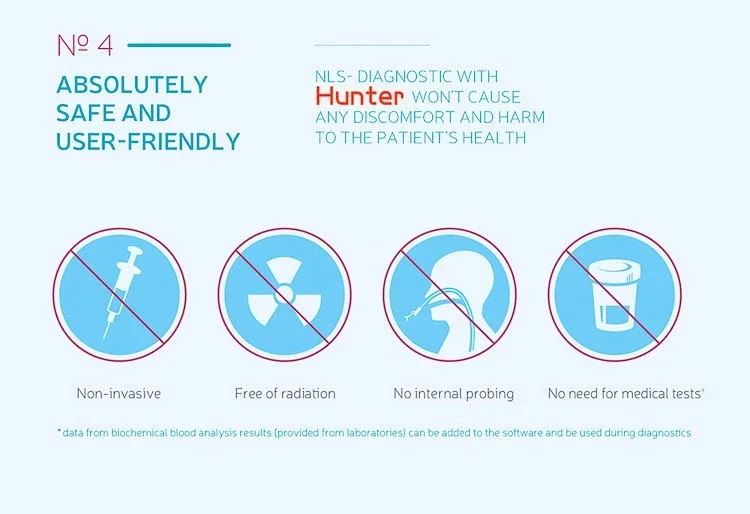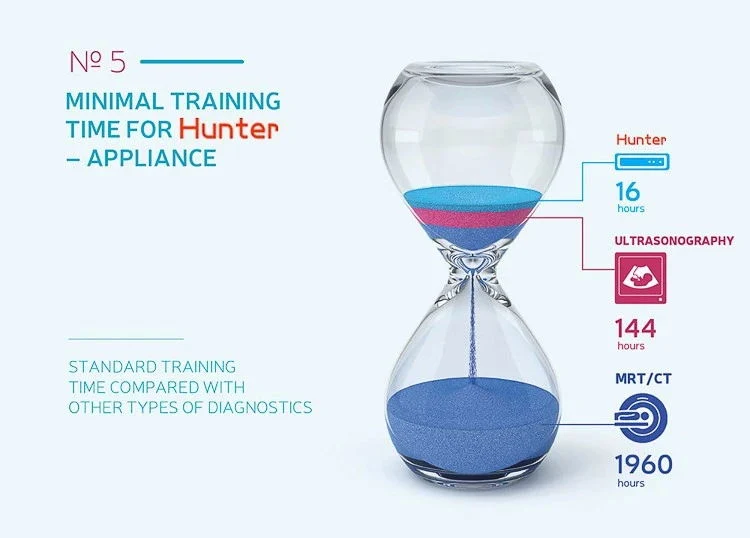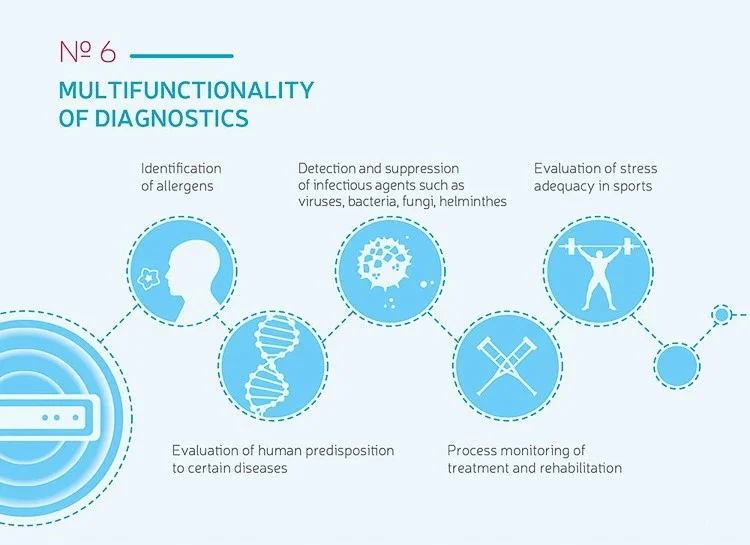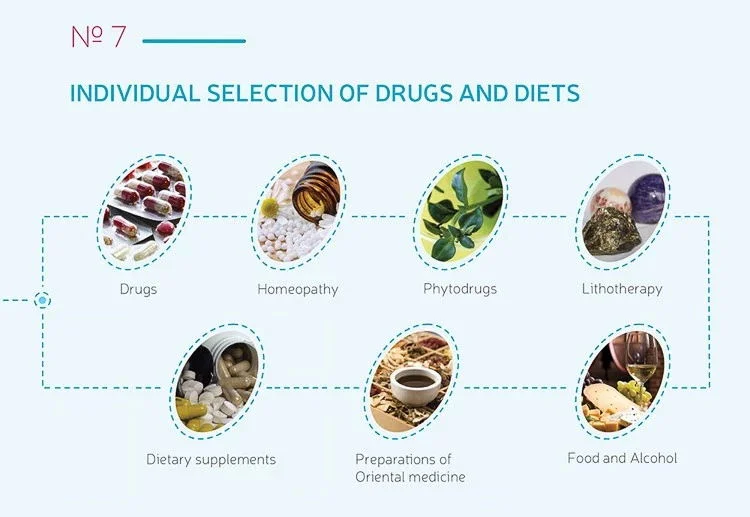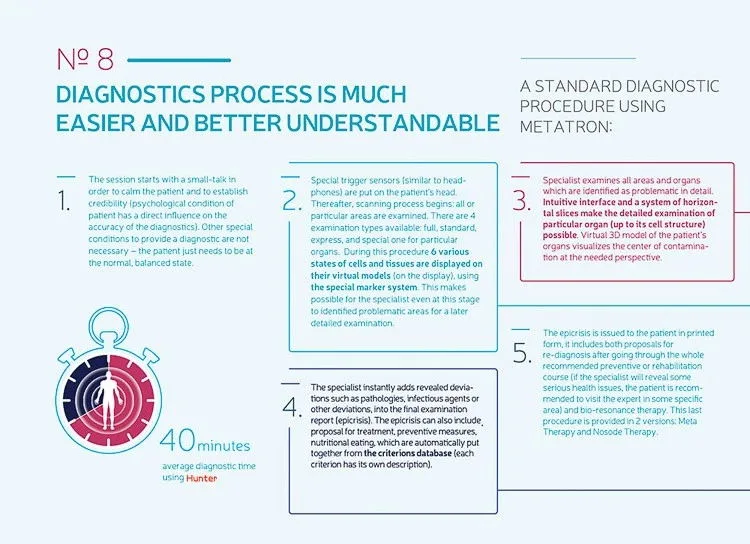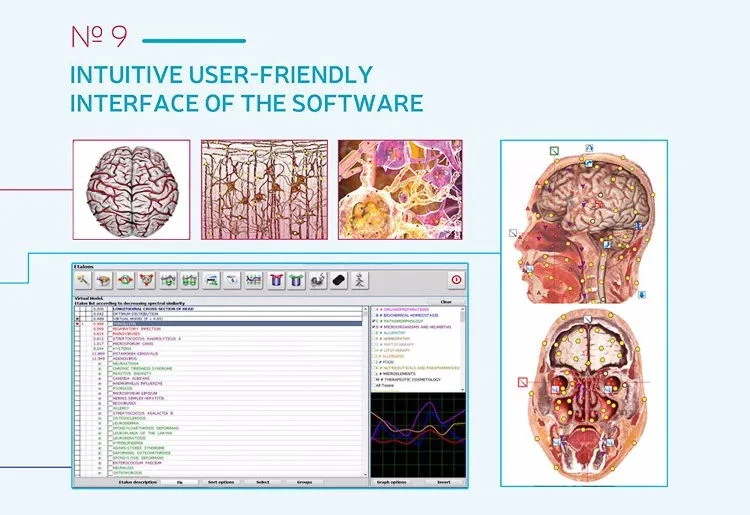 Service and Warranty
Guangyang Zhongkang Technology Co., Ltd is dedicated to providing innovative, quality products and excellent customer service. Whether you are placing an order, looking for technical support or just have a basic question, we will response to you within 24 hours and will strive to bring you the highest level of support. Please contact our company Service
A. Warranty period
Our warranty includes the maintenance of material and manufacturing technology malfunctions within Thirteen months from the date you buy our machine.
B. Restriction
If the machine is not dated, we will be unable to provide you the service. We will not bear any responsibility if any damage caused by the followings: Damage caused by fire, earthquake, riots, or any force majeure.Incidental damage such as interruption of business and loss of business benefit including loss caused by using the machine, costs raised by any other machines' replacement, installation and service, or claims of your customers.
C. Shipping problem
If you find there is something wrong while opening the packing, please contact shipping company at first time, both of us must discuss with relative shipping company to solve the problem. At the same time, we'll do relative help for you.