Oxygen Concentrator for Chemical Engineering
Cape-Golden PSA
Oxygen Concentrator
Systems offer an endless supply of Oxygen for a wide range of commercial applications
For more than 10 years, Cape-Golden has manufactured
Oxygen Concentrator
in purities from 90% to 99%. Our rugged and reliable
Oxygen Concentrator
are precision-tuned and ideally suited for a range of commercial applications.
How does Cape-Golden's PSA Oxygen Generator Work?
Ad-sorption is the physical process of separating molecules. Our Pressure Swing Adsorption (PSA) oxygen generation systems generate oxygen by separating it from the nitrogen in ordinary air. Air is 20.9% oxygen and 79% nitrogen, along with a small percentage of inert gases.
Within our
Oxygen Concentrator
, a vessel containing a molecular sieve called zeolite is filled with compressed air. The nitrogen molecules are adsorbed by the sieve material while the oxygen molecules drift past and are collected in an oxygen receiver tank attached to the oxygen generator.
Pressure is then released from the vessel, and the nitrogen molecules are vented to the atmosphere. While the depressurization is occurring, the cycle is repeated in a second vessel. The process is repeated swinging from one vessel to another for as long as there is an oxygen demand.

Features
• All components are oxygen-compatible
• Produce oxygen from compressed air
• Microprocessor controlled
• Low operating cost
• Automatic and unattended operation
• Easy to install and maintain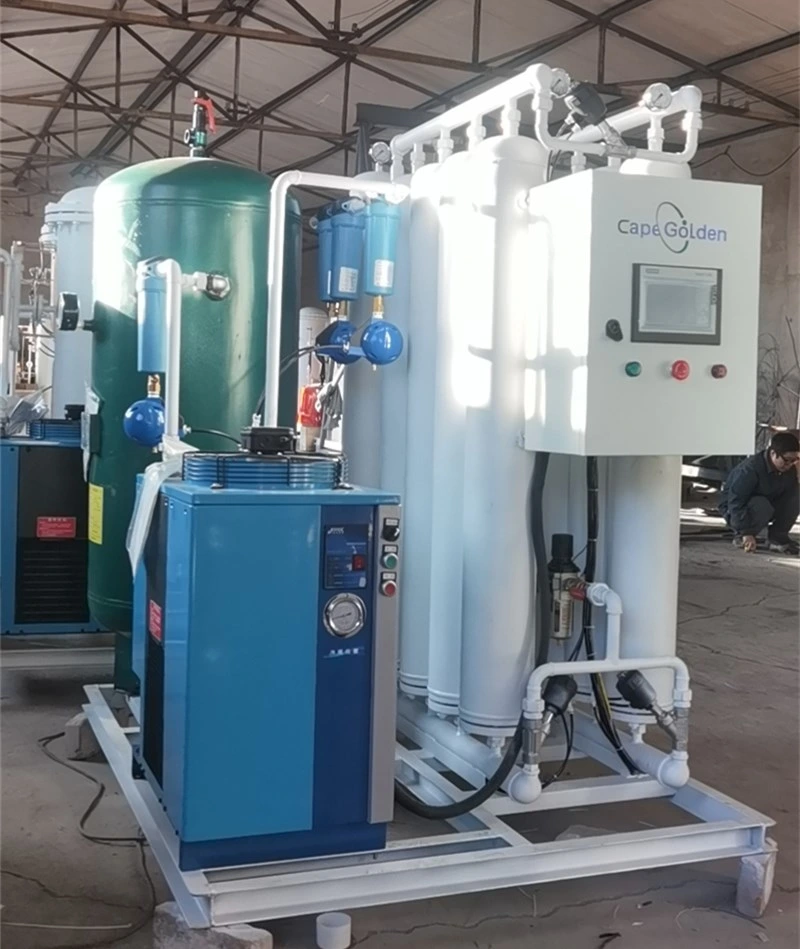 Applications in Chemical Engineering
In the process of chemical production, we can use oxygen instead of ordinary air to improve the output and quality of products. Dozens of chemical products, such as carbon black, formaldehyde, can be produced with oxygen enrichment.
The main application of oxygen in chemical engineering is to enhance production. For example, oxygen for organic chemicals, oxygen for acid production, pulp oxygen bleaching, oxygenated high-pressure gasification of gas, oxygenation of poor coal fields, production of petroleum protein with oxygen, manufacturing of fuel cells, cracking of crude oil, production of natural gas instead of gas, rock crushing by flame injection, Kraus sulfur recovery, and so on.
Take hydrogen peroxide production process for example, using oxygen enrichment as molecular oxygen source, not only improves the hydrogen peroxide production device, and due to the increase of oxidation reaction rate from hydrogen peroxide production process of tail gas treatment plant of exhaust quantity reduced, aromatic hydrocarbons emissions also reduce accordingly, reduce the pollution to the environment, and economic benefit of double effect is obtained.