Colormeter PRO Hand-Held Mini Spectrometer/Colorimeter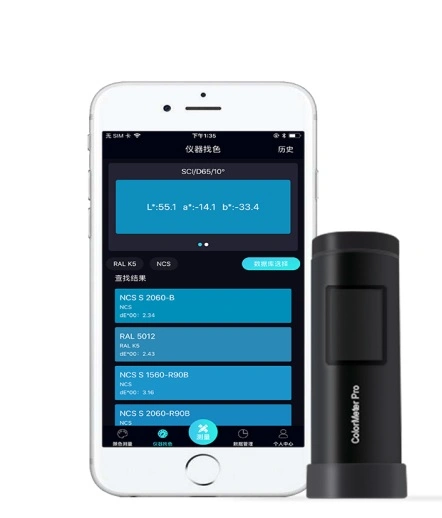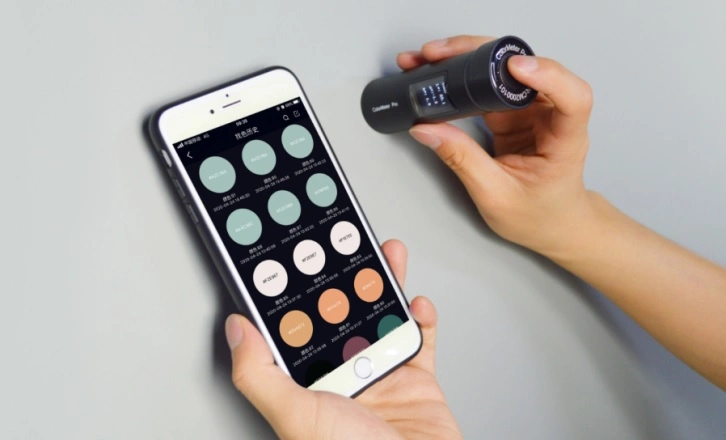 ColorMeter Pro is an innovation color measuring tool with powerful configuration to make color measurement easier and more professional; It support Bluetooth to connect with Android and ISO devices, ColorMeter Pro will take you into a new world of color management; It can be widely used to measure color value, color difference value and find similar color from color cards for printing industry, paint industry, textile industry, etc.

Part 1. Instrument Function Introduction
1. Measure Color Value
Adopt international used D/8 (Diffused Illumination, 8 degree viewing) geometry and SCI mode to make measurement more accurate.

Adopt spectral sensor to provide reflectance data which make it

s performance much better than colorimeter.

To get correct L*a*b, L*Ch, RGB, Hex and other color

value

under light source D65 or D50.
It can measure whiteness index, yellowness index, color strength, color fastness, opacity and other 20 kinds of parameters with 26 kinds of

illuminants

.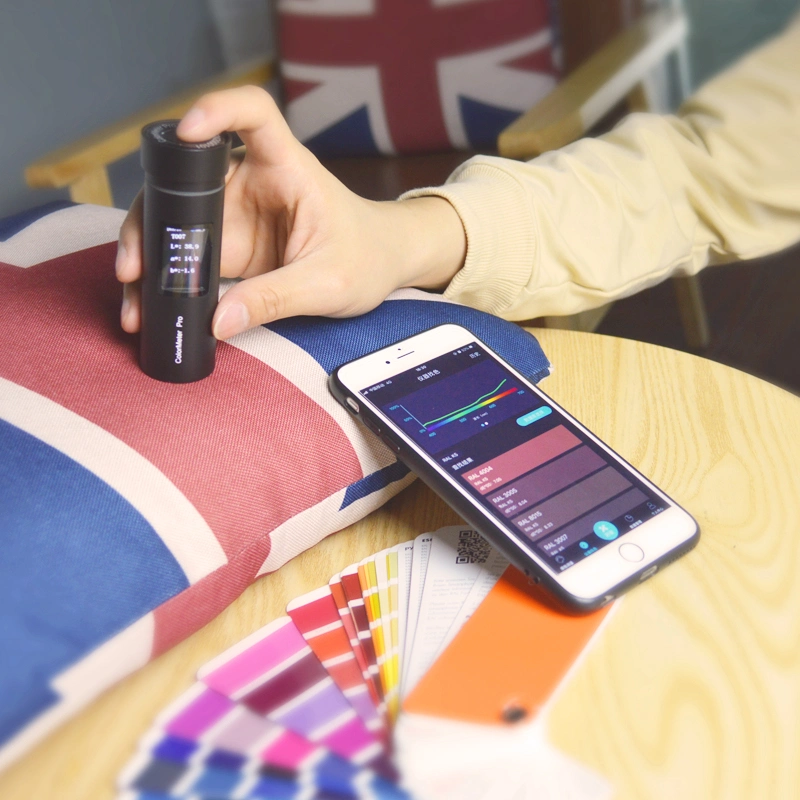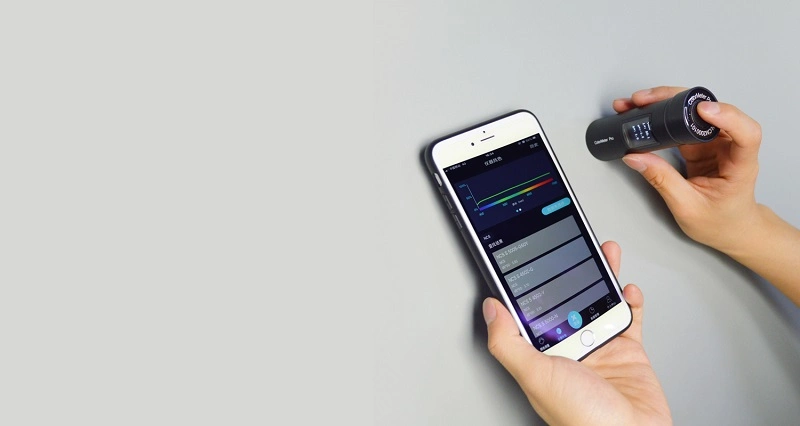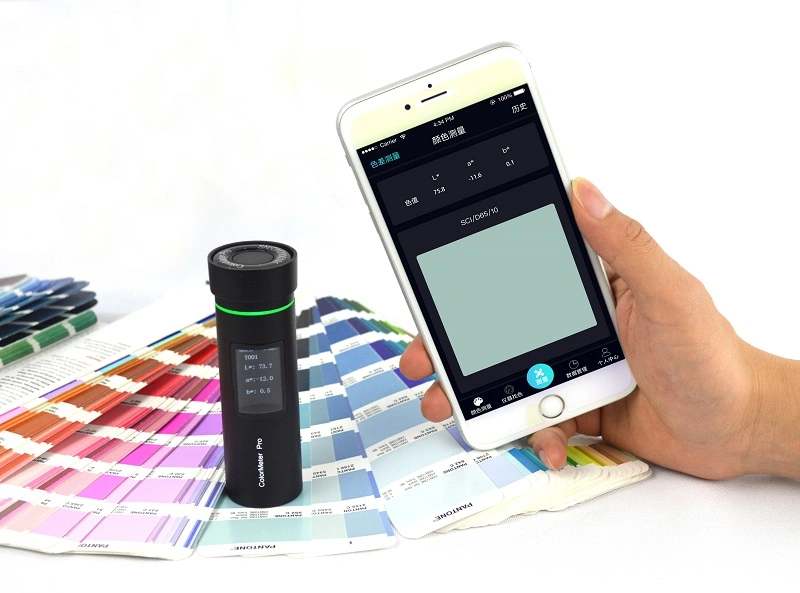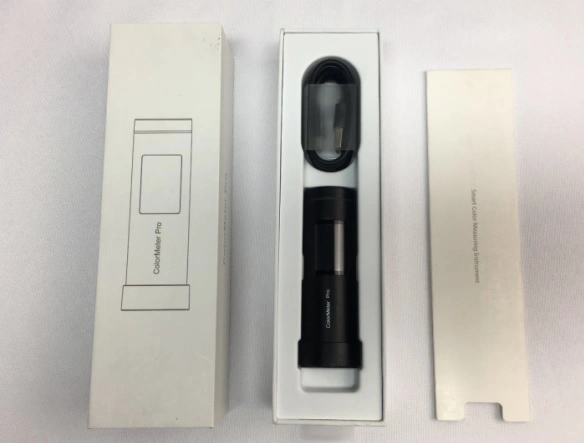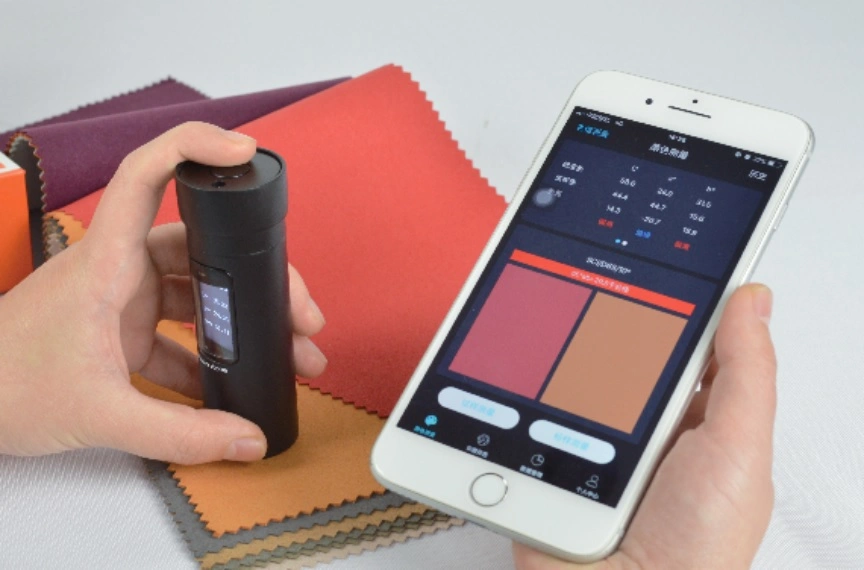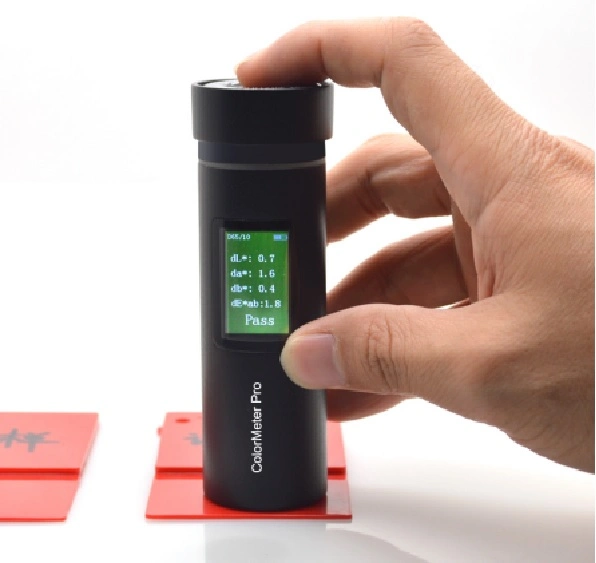 2. Measure Color Difference Value
"

Pass

"

or

"

Fail

"

judgment

can be seen from both instrument and APP.
ΔE *ab, ΔE * CH and other color difference formulas, display color difference value, color difference evaluation results

.

Connect to App for color difference evaluation, color difference tolerance and parameters

can be set in APP.
3. Portable and Massive Color Card Database
Bluetooth to connect with mobile phone APP to create database to upload the color shades from printing, paint, textile color cards.

No need to carry big and heavy color card, we can find color card database from Colormeter Pro APP and find the closed/similar color easier and faster.
4.
Artificial
I
ntelligence
for A
ccurately
M
easure
C
olor
AI-based color search engine for accurately measure color;

Color can be collected anywhere and anytime.
5. Innovation Design for Auto Black and White Calibration
Auto

instrument

black and white calibration for easier and correct color test

APP will remind for calibration if instrument works for long time

From APP we can do manual calibration and set calibration interval.
6. Single Instrument for Test and Save Test Value
1.14 inches

IPS

display screen to show color information.

Data can be saved on

instrument

and instrument data can be

sync

ed into APP.
7.
Cloud database, more convenient to view and upload
O

fficial color card database

s are available.

Personal users can update color information to cloud and share between different instruments which make color management much easier.

Enterprise users

can create and manage their own color card library and formula information in the cloud and share the information to their customers and suppliers through the unique invitation code.
Part 2. Packing List:
N

ame

Qty.

Instrument

1

Type-C Cable

1

Operate Manual

1
Part 3. Technical Data
Model

ColorMeter Pro

Illumination and Viewing System

D/8, SCI (specular component included)

Color Spaces and Indices

Reflectance, CIE-Lab, CIE-LCh, Hunter Lab, CIE-Luv, XYZ, Yxy, RGB, Color Difference (ΔE*ab,

ΔE*cmc,

ΔE*94,

ΔE*00), Whiteness Index (ASTM E313-00,

ASTM E313-73,

CIE/ISO, AATCC, Hunter, Taube Berger Stensby), Yellowness Index




(ASTM D1925,

ASTM E313-00,

ASTM E313-73), Blackness Index(My,dM), Staining Fastness, Color Fastness, Tint(ASTM E313-00), Color Density CMYK(A,T,E,M), Metamerism Index Milm, Munsell, Opacity, Color Strength

Light Source

LED (Full Wavelength Balanced LED Light Source)

Measure Aperture

8mm

Wavelength Interval

10nm

Wavelength Range

400-700nm

Repeatability

ΔE

≤0.1

(when a white tile is measured 30 times at 5-second intervals after calibration)

Measurement Time

1s

Interface

USB, Bluetooth

Illuminants

A,B,C,D50,D55,D65,D75,F1,F2,F3,F4,F5,F6,F7,F8,F9,F10,F11,F12,CWF,U30,U35,DLF,NBF,TL83,TL84

Observer

2° and 10°

Display Screen

IPS Full Color Screen (135*240

mm

,1.14

inch

es

)

Battery

4.2V / 760mAh, Rechargeable, 10,000 continuous tests

Language

English and Chinese

Calibration

Auto

Software Support

Android, IOS, Windows

Weight

About 90g

Instrument Size

Diameter 31mm , Height 102mm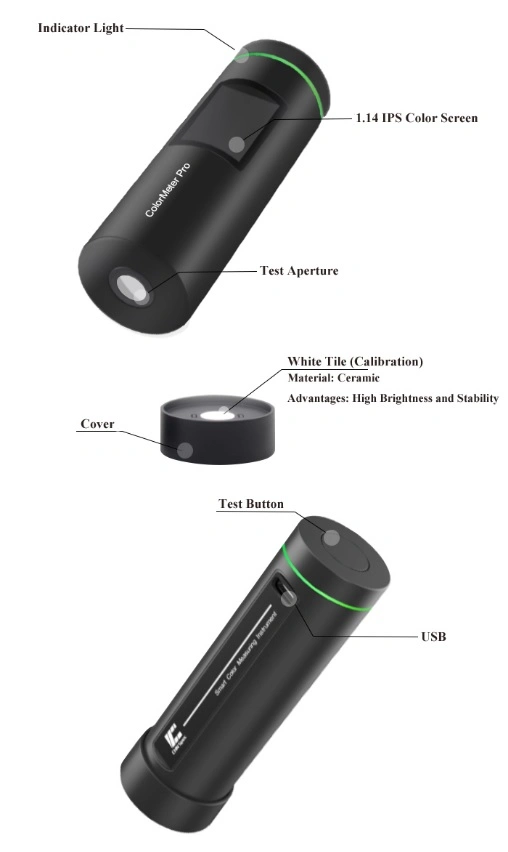 Details pictures
FAQ
1. How can I choose the suitable one?
Dear customer, please tell us your detailed requirements by mail or online, we will recommend the suitable one as your request.
2. Does your price is competitive?
Dear customer, we make sure to offer you the best quality with competitive price.
3. How can I pay?
Dear customer, we accept many payment term, such as T/T, Western Union…
4. When I receive it after pay?
Dear customer, normal models can be delivered with 5-7days, please contact us to check transport time to your address.
5. How to deliver?
Dear customer, we can send by Express, by Sea and by Air.
6. Is will be broken during transport?
Dear customer, please do not worry, we do standard export package.
7. What should I do if I do not know how to use?
Dear customer, please do not worry, manual user will be sent together, you can also contact us with more technological support.8. What should I do if some parts broken?
Dear customer, please do not worry, we have 12months warranty except wear parts. You can also buy parts from us after 12months.
Pre-sale service
· 24hours online to ensure quick response to customers' inquiry or online message;
· Guide customers to choose the best suitable machine model;
· Offer detailed specification and competitive prices;
Contract execution
· Machine production will be arranged strictly according to the contract;
· Machine photos will be sent to you for inspection during production;
· Send customs clearance documents by DHL;
· Update latest news after delivery and prepare customs clearance;
After-sale service
· 12 months warranty except for wear parts;
· Broken spare parts (except for wear parts) will be sent for free due to quality problems;
· In time response to customers technical problems;
· New products update for customers' reference

Our Company:
Since 2008, We have become a professional laboratory instrument manufacturer.
Since the establishment of the International Department in 2010, the products are exported to Europe, America and Asia and Africa!
Whether it is technology, factory area, multi-language sales. We are all professional!




Factory Show:


Warranty And After-sale Service
♥♥We Supply 1 Year Warranty , And Lifelong Free Technical Guiding And Training♥♥