Detailed Product Description
1. Digital colorimeter can be connected with computer
2. Widely applied to quality control of plastic and printing industries
Name:
Digital colorimeter
Model:
HP-2132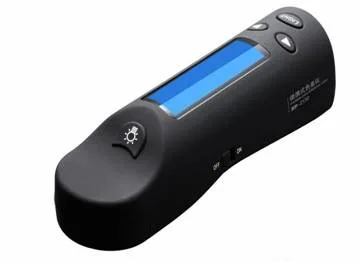 Technical Features:
1. Easy operation make you use it easily
2. Widely applied to quality control of plastic and printing industries.
3. Display directly color difference by Δ E*ab, Δ L*a*b, CIE_L*a*b, CIE_L*c*h
4. Standards devitation within Eab0.2 (test condition: Choose average: Values by 12 PCS white tabula)
It can be connected with computer to do the inspection by software with USB expansion interface. Connecting with computer to do the analysis
Skills Indications:
1. Test accuracy within 0.2 ΔE*ab
2. Display ΔE*ab, CIE_lab, ΔLab, CIE_ Lch
3. Test swpe: L: 0-100 a:-128--127 b: 128127
4. Test time: About 3 seconds Test interval: 2 seconds Test aperture: 8 nm
5. Automatic shutdown after 5 minutes waiting
6. Light source: C light source Sensor Correct silicon photodiode carrays
7. Power: DC/5V (1.5A), 2 PCS 1.5V (AAA) batteries
8. Size: 171*50*48.8 mm
9. Weight 203.6 g (Exclusive battery)
10. Operated temperature scope 040(32-104 °f); lower than 85% relative humidity
11. Standard accessories: 1 pc manual / soft bag / 9V battery /5V extent power supply / USB connection cable / CD
12. Application: Measure any color of smooth surface


CIE color space coordinate chart:
COLOR DIFFERENCE FORMULA
Eab= [(ΔL*)2 + (Δa*)2+(Δb*) 2]1/2
L= Lsample Lstandard (lightness difference)
a= asample astandard (red /green difference)
b= bsample bstandard (yellow / blue difference)
Working theory:
Compare the color difference between sample and the measured subject .Then output CIE_Lab 3 groups data,and the 4 groups of E, L, a, b data after comparision.

E stands for the total color difference
L + stands for partial white, L stands for partial black (comparing with prototype)
a + stands for partial red, a stands for partial green (comparing with prototype)
b + stands for partial yellow, b stands for partial blue (comparing with prototype)
Product Parameter:
| | |
| --- | --- |
| Test accuracy | Within 0.2 ΔE*ab |
| Display | ΔE*ab,CIE_lab,ΔLab,CIE_Lch |
| Test swpe | L:0-100 a:-128--127 b: 128127 |
| Test time | About 3 seconds |
| Light source | C light source Sensor Correct silicon photodiode carrays |
| Power | DC/5V (1.5A),2 PCS 1.5V(AAA) batteries |
| Size | 171*50*48.8 mm |
| Weight | 203.6 g (Exclusive battery) |