Laboratory chemical analyzer double beam spectrophotometer apparatus

Description:
This series of products is based on the years of spectral instrument design and manufacturing experience of LABOAO. It has newly developed a series of double-beam UV-Vis spectrophotometers. The new optical path design, sensitive photomultiplier tube receiver, cross-national procurement of preferred accessories, superior instrument performance, and greatly meet the analytical needs of the most professional users. It can be widely used in scientific research and production in various fields such as organic chemistry, biochemistry, pharmaceutical analysis, food inspection, medical and health, environmental protection, and life sciences.
The instrument uses pulsed xenon lamp as the light source. The instrument is used normally for at least 7 years, no need to replace the light source, and the user's instrument use cost is minimized. We use original optical, circuit, structural design, advanced process specifications and strict quality management system to create this international advanced level, to meet user needs and usage habits. Microcomputer control and processing data, large-screen color display, graphical interface operation and user-friendly menu prompts, ready to draw spectral maps and analyze test data. It has many functions such as photometric measurement, automatic scanning measurement spectrum, quantitative analysis, and dynamic spectrophotometry. The sensitivity and accuracy of the analysis are high; the spectral data processing function is strong; the Chinese man-machine dialogue is convenient, the operation is convenient; the appearance of the instrument is beautiful and generous.
Feature:
1. Support U disk storage, convenient for users to use, user measured data can be directly exported to U disk, data opening and editing does not require any professional auxiliary software support, can support excel, txt format, image format (can output four formats : *.csv, *.qua.*.tet, *.bmp), it is convenient for users to edit the experiment report directly on the PC, which greatly saves the experimental table space and is convenient for users.
2. Data output: RS-232C serial port (printing), USB drive (online), USB HOST (connected to U disk), standard 16GB memory
3. The industry's first to use the advanced ARM12 processor, the instrument can store 5000 test data or 500 work curves.
4. Suspension optical system design, strengthen the thick aluminum base plate design, eliminate the impact of vibration or deformation on the optical system; double-layer design, completely separate the optical circuit parts, even if the instrument is maintained, the fork avoids light and electricity. Mutual interference increases the resolution and stability of the instrument.
5. The instrument adopts the national patent ZL 2010 2 0562320.3 photoelectric signal detection device to make the instrument signal-to-noise ratio lower and the instrument more stable.
Function:
Wavelength scanning, kinetic determination, quantitative measurement, multi-wavelength measurement, protein nucleic acid determination, system setting
Specification for 7 inch 1024 x 768 Omron button: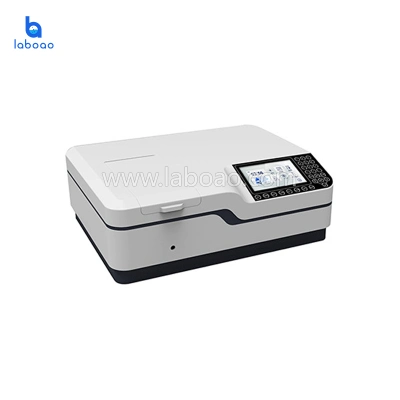 Model

L-U6

L-U6S

Display

7-inch 1024*768 Omron button

Optical system

dual beam, CT proportional detector

Light source

imported xenon lamp tungsten lamp

Receiver

High performance Hamamatsu Photomultiplier Receiver

Spectral bandwidth

2nm

0.1-5nm continuously adjustable

Stray light

0.01% (220nm)

Wavelength accuracy

full wavelength 0.3nm (656.1nm0.1nm)

Wavelength repeatability

0.1nm

Stability

0.0002A (500nm)

Transmittance accuracy

0.3% T

Photometric mode

± transmittance / absorbance / energy / concentration

Data interface

RS-232C, USB drive, USB HOST
Specification for 10.1-inch LCD display: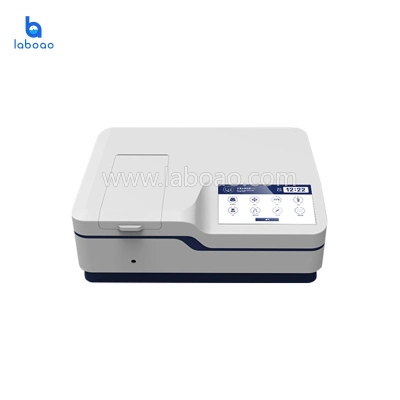 Model

L-U7

L-U7S

Display

10.1-inch 1024*800 color capacitive touch screen

Optical system

dual beam, CT proportional detector

Light source

imported xenon lamp tungsten lamp

Receiver

High performance Hamamatsu Photomultiplier Receiver

Spectral bandwidth

2nm

0.1-5nm continuously adjustable

Stray light

0.01% (220nm)

Wavelength accuracy

full wavelength 0.3nm (656.1nm0.1nm)

Wavelength repeatability

0.1nm

Stability

0.0002A (500nm)

Transmittance accuracy

0.3% T

Photometric mode

± transmittance / absorbance / energy / concentration

Data interface

RS-232C, USB drive, USB HOST