Portable clincin veterinary dry chemistry analyzer,animal biochemical analyzer
Model:MCL-SMT100V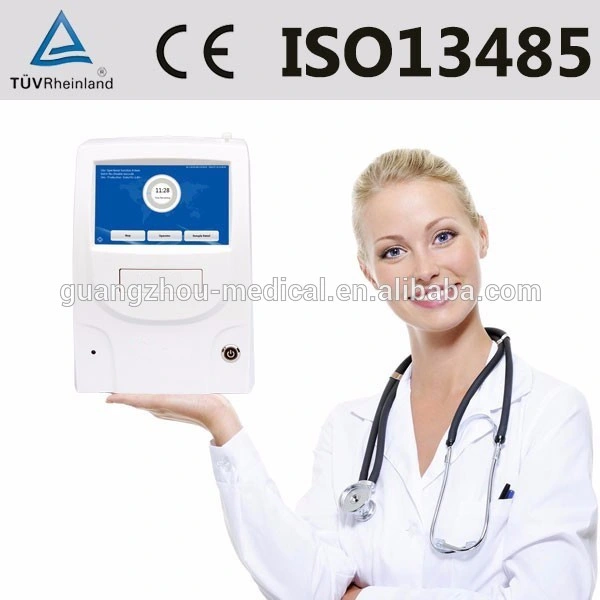 Product description
The dry chemistry analyzer is an instrument that uses the serum of centrifuged blood sample, and induces reactions using reagents to measure various components, such as sugar, cholesterol, protein, enzyme, etc.
These tests are performed for routine health checks or at hospitals, and the results provide objective data enabling early detection and diagnosis of disease, as well as indicating the effects of treatment and patient prognosis.
The dry chemistry analyzers feature:
Portable small size, 5kg, 0.02 m3, suitable for use at movable place and outdoors,
Simple operation, free of centrifugation, water treatment system and professional doctor, anyone can operate only by 3 steps,
Little sample volume, sample volume is 1/12 to 1/10 of traditional chemistry analyzer,
Accurate result, test sample and dilution volume measured by mould, without random error, no carryover.
Advantage
Freeze-drying reagent, disposable package, storage life as long as 1 year,
Internal autonomous channel design, disposable disc avoid carryover,
Multi reagent disc for choose.
The Types of Animal Biochemistry Reagent Disc

1.The 14 Comprehensive Diagnostic Parameters:

K+, Na, ALT, ALB, ALP, AMY, TBIL, GLU, GGT, CHE, CREA, TP, UA, UREA, GLOB*

2.The 13 Health Check Parameters

ALT,ALB, AST, AMY, CA, CREA, GLU, TBIL, CK,TG,UREA, PHOS, TP, GLOB*

3.The 10 Emergency and Severe Disease Parameters

K, Na, Cl,TCO2, ALT, AMY, GLU, UREA, CREA, CHE

4.The 9 Liver Function Parameters

ALT, AST, ALB, ALP, TBA, TBIL, GGT, TC, TP

5.The 8 Kidney Function Parameters

CA, PHOS, TCO2, ALB, GLU, UREA, CREA,UA

6.The 7 Electrolyte Parameters

K+, Na+, Cl, CA, TCO2, Mg, PHOS

7.The 9 Pre-operation Test Parameters

ALT, ALP, AST, GLU, UREA, CREA, TP, LDH, CK

8.The 11 Birds and crawlers

K+, Na+, CA, PHOS, ALB, AST, CK, TBA, GLU, TP, UA, GLOB*

9. The Others

It is workable to customize according to your request.
Specification
Sample type

Anti-coagulation whole blood, serum, plasma

Sample volume

100ul

Bar code

Two-dimensional bar code

Testing time

12mini/person

Testing principle

absorption spectroscopy, transmission turbidimetry

Testing method

end point, kinetic, fixed time, turbidmetry, etc.

Temperature

37 ±0.2 degrees celsius

Absorbance

0-4.5Abs

Resolution

0.001Abs

Carryover

0

QC & Calibrate

auto test in real time

Work environment

Temperature:10-32 degrees Celsius, Humidity: <90%

Optic system

Reversed optic. 340nm, 405nm, 450m, 505nm, 546nm, 578nm, 630nm, 850nm

Light source

12V/20W,.Tungsten halogen lamp's life span reaches over 2500hours

Power supply

AC100V-240V,50-60Hz

Power

70W

Interface

7.0 inch True color LCD touch screen, multi-language choice.

Vet version is optional

Storage

>100000 results

Printer

built-in thermal printer and external printer

Data port

4 USB, 1 RS232. Software upgrade function by WIFI

Weight

5KG

Size

31cm(H)*21cm(W)*28(L)cm

Animal types

Over10 species
Analyzer Uses of biochemical analyzer
3 Steps operation of the dry chemistry analyzers:
Step 1: Add Sample
Simply collect 0.1cc of whole blood, serum or plasma, and transfer it to the self-contained reagent disc. The single use, disposable disc contains all the reagents and diluent necessary to perform a complete fixed multi-test panel.
Step 2: Insert Disc
Follow the touch screen commands. Place the disc into the analyzer drawer, enter requested information and the biochemistry analyzer does the rest. In approximately 12 minutes, results are ready.
Step 3: Read Results
Complete panel results including patient demographics, chemistry concentrations, reference ranges, sample integrity indices and iQC are available on the full color display, printed on a self-adhesive print out, transmitted to an external printer, The automatic biochemistry analyzer will store on-board up to 100000 patients and quality control results.


More picture of veterinary dry chemistry analyzer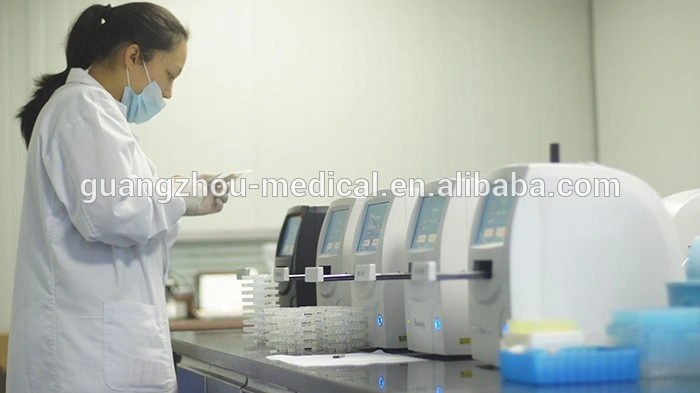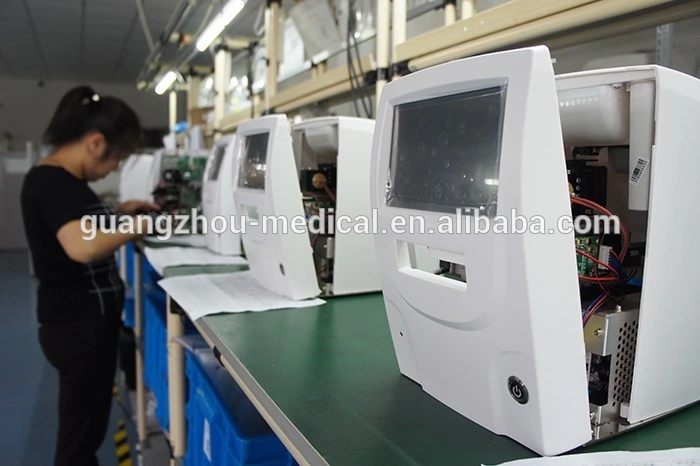 About MeCan